Winter Holidays are a time for families & friends to get together, that also means a greater risk. Following a few simple tips will ensure a happy and safe holiday season.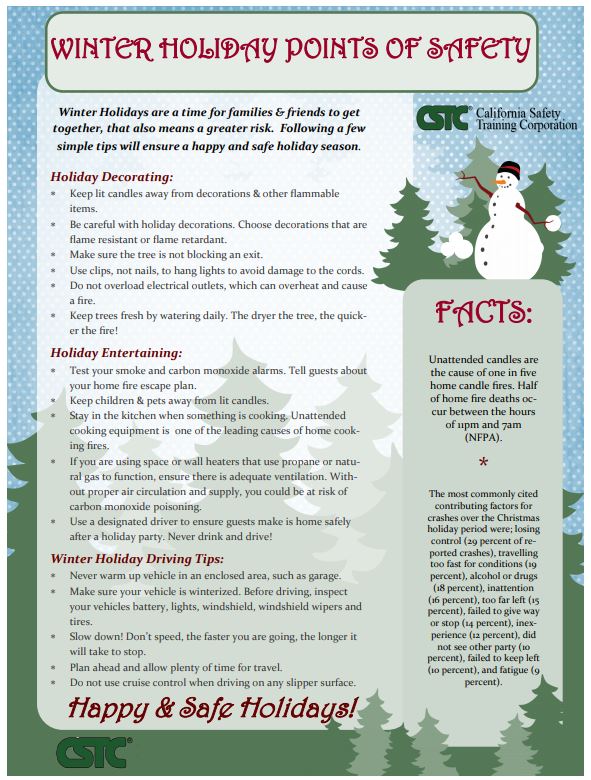 Holiday Decorating:
Keep lit candles away from decorations & other flammable items.
Be careful with holiday decorations. Choose decorations that are flame resistant or flame retardant.
Make sure the tree is not blocking an exit.
Use clips, not nails, to hang lights to avoid damage to the cords.
Do not overload electrical outlets, which can overheat and cause a fire.
Keep trees fresh by watering daily. The dryer the tree, the quicker the fire!
Holiday Entertaining:
Test your smoke and carbon monoxide alarms. Tell guests about your home fire escape plan.
Keep children & pets away from lit candles.
Stay in the kitchen when something is cooking. Unattended cooking equipment is one of the leading causes of home cooking fires.
If you are using space or wall heaters that use propane or natural gas to function, ensure there is adequate ventilation. Without proper air circulation and supply, you could be at risk of carbon monoxide poisoning.
Use a designated driver to ensure guests make is home safely after a holiday party. Never drink and drive!
Winter Holiday Driving Tips:
Never warm up vehicle in an enclosed area, such as garage.
Make sure your vehicle is winterized. Before driving, inspect your vehicles battery, lights, windshield, windshield wipers and tires.
Slow down! Don't speed, the faster you are going, the longer it will take to stop.
Plan ahead and allow plenty of time for travel.
Do not use cruise control when driving on any slipper surface.
FACTS:
Unattended candles are the cause of one in five home candle fires. Half of home fire deaths occur between the hours of 11pm and 7am (NFPA).

The most commonly cited contributing factors for crashes over the Christmas holiday period were; losing control (29 percent of reported crashes), travelling too fast for conditions (19 percent), alcohol or drugs (18 percent), inattention (16 percent), too far left (15 percent), failed to give way or stop (14 percent), inexperience (12 percent), did not see other party (10 percent), failed to keep left (10 percent), and fatigue (9 percent).
Happy & Safe Holidays!

---