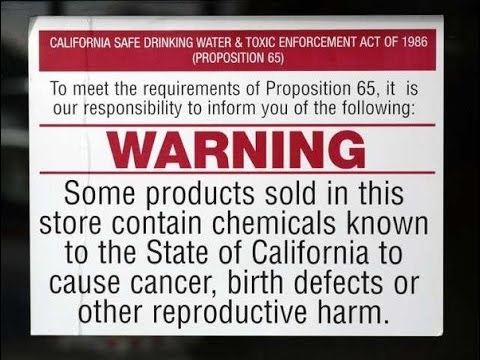 On August 30,2018 the Office of Environmental Health Hazard Assessment will begin enforcing law changes to the Proposition 65 rules. Any business who exposes people to chemicals on the Prop 65 list without providing "clear and reasonable" warnings will be subject to citations and fines. Three types of exposures require the warnings, consumer product, occupational and environmental. Areas where these Prop 65 chemicals are used are both rural and urban. Agricultural pesticides, turf applications, ornamental, dyes that "set" the colors in carpet paints, glues are some examples. Active or inert ingredients that are on the Prop 65 list must be covered and documented.
What is Proposition 65?
California Voters approved Proposition 65 in 1986. The law officially known as Safe Drinking Water and Toxic Enforcement Act of 1986, and requires California to publish a list of chemicals known to cause cancer or reproductive toxicity ( this list includes more than 850 chemicals ) and businesses with 10+ employees to provide warnings when they expose those chemicals.
Why the change?
You have seen the warnings, in several places, and probably wondered, what chemicals is the warning referring to? How am I getting exposed? The warning was present, but not very informative. The changes will give you more information about the chemical in question, and a way to find out more information. Also, this should stop businesses putting up the sign just to cover themselves, now they will have to have a good reason to put up the sign, and be more specific about it. Changes also give businesses more guidelines on when and how to provide those warnings.
Where can i find out more about the Prop 65 rule changes?
Prop 65 Warnings website is a great website with all the information you need. Below is a link to the rule changes, but there is information about the chemicals, products and places, information for businesses and much more.
https://www.p65warnings.ca.gov/new-proposition-65-warnings
Where Can I Find More Information On Proposition 65 Warning Requirements?
---